Let's blow the dust off this thing.
Over the past week, my blog stats have spiked and I can't figure out why. So I googled "bleak theology" to see if anyone had linked to me. Not that what I found caused the spike, but I found the blog of one Leon Niemoczynski (a great last name, though shorter than my own), who has recently offered a bleak theology of his own, revolving around the idea of speculative naturalism. His abstract is as such:
"Speculative Naturalism: A Bleak Theology in Light of the Tragic"

Abstract

Theological perspective upon the relationship between deity and creature may not be as radically open to a full range of possible value as has once been thought. If one is seeking a capacious view of deity, creatures, and nature, I contend that not only should one account for continuity, wholeness, healing, salvation, warmth, benevolence, and joy in one's religious metaphysics, but also for discontinuity, difference, diremption, rupture, trauma, tragedy, melancholy, coldness, and the more "somber" tones of the divine life. These features seem to be just as important as any strictly positive evaluation of deity in establishing its full range of possible value, even its "fading embers" of value that seem to continually ignite ablaze both wrath and love. My exploration of this "darker" side of religious naturalism, a "bleak theology" as I am calling it, begins by articulating its opposite in the axiologically positive evaluation of nature found within the "mainstream" of American religious naturalism, especially within the 19th and 20th centuries (including process theology). I then offer some speculative theses about the relationship between deity and the natural world in more somber dimensions, developing my reasoning as to why a darker side of deity ought to be accounted for, and can be accounted for, within a perspective which I call "speculative naturalism," a "bleak" theology.

"Darkness and occlusion make out the character of primal time. All life is at first night; it gives itself shape in the night…Thus too wrath must be earlier than love." – F.W.J. Schelling
And he reflects further on this on the always spectacular theology blog, Homebrewed Christianity.
Indeed. Our foci are located in very different places: Niemoczynski, in American religious naturalism, and I, in phenomenologically theological engagement with cultural collapse. It goes to show that there are variety of bleak theologies, and this is a good thing. He has a "speculative naturalism." I have "post-punk theology." It would be interesting to be in active dialogue with Niemoczynski on how he's setting up his framework. I would say posit that when we turn to aesthetics, that we are dealing with the sublime and his Schelling quote tips his Romanticist hand and its appeal to Nature. Niemoczynski likes long hikes and that is telling, too. Theology is never done in a vacuum and Nature abhors one, anyway.
And I would agree with Niemoczynski, but where he likes the wilderness, I'm at home in ruined urban decay, where Nature and Culture work with and against each other, where Culture seeks by using culturally-crafted materials fashioned from Nature against Nature. Ultimately, Nature dooms Culture, but not before Culture creates a culture. For me, aesthetically, this is demonstrated in Reykjavik, Iceland, a geographical midpoint of the Cold War in the northern mid-Atlantic. It is this bleak landscape where Niemoczynski's speculative naturalism can be considered, but I would posit that along with it (though, not necessarily contraposed), the stark circumstances of the individual and society against itself and the Other, which presents itself in lamentation.
Niemoczynski and I both offer bleak theologies that howl. But his seems to be the wind and mine is the voice.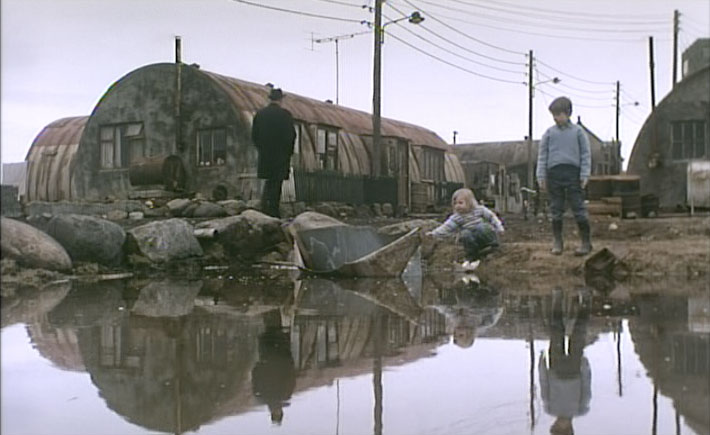 Still from Djöflaeyjan (Devil's Island, 1996)
Yay! Trinity Sunday! WTF. Erm… the Trinity! The confounded and confounding Christian doctrine that seeks to explain the three Actors – wait… one Actor, oh I don't know how to explain it. Today is the day on the calendar when the Church reminds itself that it probably would be a good day to praise God and in the midst of that, try once again to explain to (and probably convince) itself that this is a very good idea for us and our salvation that God is in three Persons. WAT.
The Trinity is not found, per se, in the biblical narrative, at least not named as such. Though, generally, a lot of blood, sweat, and tears have been shed over the damn thing. And I like what Gregory of Nazianzus said about it, though, personally, when I do think about the Trinity too much, I risk the modalism of Sabellius. There. I said it. On a blog post. You can gasp and clutch your pearls to your throat, now, if you understand what I just did there.
But, hey, we're talking about analogies, and there are plenty of bad analogies about the Trinity. Mine is merely one of many, as you see.
Anyone who tells you they can clearly understand the doctrine of the Trinity is either a liar, a fool, or a crazy person. But it seems here an opportunity to look through particular lenses to squint at the Trinity to see if it becomes, well, not any clearer, but a bit more fleshed out. And we all know flesh is messy.
If you think too much about the Trinity, it becomes a bit silly and strange in a way at which the British have excelled. So, I have picked those rogue theologians Neil Gaiman and Terry Pratchett, iconic (and very British) writers of strange worlds, events, and creatures. If there were ever two authors who could flesh out the Trinity in an approachable way, they could do it. However, as far as I know, they haven't, nor would they. So I am taking it upon myself to employ the styles and fictional approaches of these authors to explore two different aspects of the Trinity. NB: this is not an attempt to "Christianize" (Ech! The word makes my tongue itch.) the authors or their work, but rather to employ their style as analogies for the purposes of explanation. These are very rough sketches that were thought before dawn. In other words, I'm using art and letter to explain something immaterial when I was sleepy. Duh.
Gaiman, author of such wonderful works as Sandman, Neverwhere, and American Gods (about which I've written), has thought deeply and variously about religion and has explored gods various incarnations and has, in fact, played with the idea of "trinity". According to The New Yorker, he's a Jewish kid who's family was Scientologist. But we're not saying how Gaiman makes a Trinity or how we Trinitize Gaiman.
And to live in a Gaiman story is usually to be found in a plot wherein one usually ventures from one's own world and thrust via some variant rabbit hole into another deeply unfamiliar world. There, the individual goes through much effort to resolve these incongruent worlds and ultimately gives up/has revelation/acquires an object and just goes with it for the betterment of their being and action. Gaiman works in the realm of the uncanny (or as one of my favorite German words would render the concept, Unheimlichkeit). (Yes, this is a VERY sloppy hipshot of Gaiman's ouvre, but I'm writing this before 7am, so just indulge.)
Gaiman's Trinity is about encountering its identity, passing from a world of an expected and singular deity to a world where there is not multiple deities, which might be expected, but, instead, actually entering a world where that same deity has a multiplicity about it and meeting that deity. Gaiman's Trinity is about encountering the Actors and interacting with them individually and corporately. There is the encounter with God, the Creator and Ordererer; God, the Human Suffererer and Redeemererer; and God, the Helpererer. Why the extra "-er"s? Well, because in the Trinity there is always a surplus in its totality. Duh.
And the beauty of a Gaiman story is realizing that it was strange, since the beginning and nothing has changed, other than that you know the truth, now, and have interacted with it, for better or worse. And that it is you, dear reader, who has changed and has been changed. And that's just weird and unsettling. Gaiman Trinity Sunday is about remembering that when "God" or "Jesus" or "Holy Spirit" is mentioned, there is extra baggage lurking RIGHT BEHIND YOU! Spooky. I did not expect that.
Pratchett's Trinity is about participating in its action, existing in a world where the laws of everything seem to be constantly bent in a very absurd and silly sort of way. But it only seems as such because you have not been participating in its world. Terry Pratchett is best known for Discworld, his universe within many of his stories occur. Discworld is a flat disc supported on the backs of four elephants on top of a giant flying turtle, of course. It sounds silly because it's strange, but it's not any stranger or sillier than the Spirit of God hovering over the waters and exhaling into clay, when you think of it.
Pratchett's Trinity has a participatory motion to it. And there is no transcendence. It's immanent. And in Pratchett's books, there is a strangeness that is mundane. It's expected. And the characters go with it, because that's how the world functions. There is something organic about it, a telos, a goal, and end that Gaiman doesn't have. Gaiman is much more radically transcendent. Pratchett Trinity is there, like "Oh, yeah. There's the Trinity again. When it comes over for dinner, they always eat more pie when the Son isn't feeling kenotic." And it makes sense, because that's the world. And we interact within and with it.
The more I think about it Gaiman's Trinity seems Neoplatonic, Augustinian, Barthian (?!). And Pratchett's Trinity seems Aristotelian, dare I risk Thomistic. Perhaps, but it's important to note that he'd "rather be a rising ape than a fallen angel", and rightly so! This is Aristotle. Enjoy his thoughts on religion:

Anyway, that's a lot of sloppy thinking about a very difficult concept and doctrine and people will gladly shoot holes in my moth-eaten thought experiment, but it all goes to show that the Trinity, if one even believes in it, is something out of a Gaiman or Pratchett novel. And maybe that's a good omen of things to come, or have been, or is. Whatever. It's all very confusing.
At the risk of sounding snotty, on this wonderfully dreary Saturday afternoon, I was catching up on my Paris Reviews, by polishing off Issue 203, and listening to NYC's classical music station WQXR's online contemporary station, Q2, and discovered Nico Muhly's I Drink The Air Before Me: Music Under Pressure 3.
" I Drink the Air Before Me is an evening-length score for Stephen Petronio's dance piece bearing the same name.  Inasmuch as it was celebrating Stephen's company's 25th anniversary, the piece wanted to be big, ecstatic, and celebratory. Our initial meeting, in which we discussed the structure of the work, yielded a sketch: a giant line, starting at the lower left hand side of a napkin, and ending in the upper right.  Start small, get big!  The rules: a children's choir should begin and end the piece.  The work should relate to the weather: storms, anxiety, and coastal living.  A giant build-up should land us inside the center of a storm, with whirling, irregular, spiral-shaped music and irregular, spiral-shaped dancing.  Using these rules, I divided up the piece into a series of episodes all hinging around spiral-shaped constellations of notes.  These are most audible in Music Under Pressure 3, and least audible when they are absent, in the diatonic, almost plainchant music that the choir sings at the end, the text of which comes from Psalm 19:

One day tells its tale to another,
and one night imparts knowledge to another.
Although they have no words or language,
and their voices are not heard,
Their sound has gone out into all lands,
and their message to the ends of the world.

I wanted the ensemble to be a little quirky community of people living by the edge of the sea: a busybody flute, a wise viola, and the masculine, workmanlike bassoon, trombone, and upright bass.  The piano acts as an agitator, an unwelcome visitor, bearing with it aggressive electronic noises and rhythmic interruptions.  "

Nico Muhly
The album, evidently, is about storms. And I very much like violent weather. I can trace this directly to the summer thunderstorms of my youth in Texas.
I was caught by the composition because I felt a kind of creative kinship to it. And when I feel a kinship to something creative, I feel creative, myself. Creativity is one of my great interruptions. If I experience something that resonates within me, I will interrupt myself – and even the work that interrupts me, id est, I interrupt it, and I am led to create, myself.
Yesterday, the Boy Scouts of America's National Council, by a 61% margin, voted to accept boys who self-identify as gay into their ranks, i.e., "approved a resolution to remove the restriction denying membership to youth on the basis of sexual orientation alone". Here is the official statement. Immediate reaction is mixed and pointed, even by the supporters of gay scouts.
Scouters who self-identify as gay are still banned from serving in the BSA. It doesn't take much to see that this is two (albeit, important) steps forward and one step back along the Scouting Trail. What this means is that gay adults are still demonized and that, technically, a scout, upon the age of eighteen, who wishes to continue to serve scouts and give back to Scouting, is unable to do so. So, all those qualities inculcated within the boy somehow are suddenly to the BSA invalid within the man, all because of a birthday. The boy who trusted and was brought up to be trusted is no longer to be trusted.
The final point of the Scout Law is that "a scout is reverent." Before anyone says that this is an indication of the religious foundations, goals, and framework of scouting, let's parse this a bit. It doesn't say to whom or to what a scout is reverent. To be reverent is to embody the quality of revering. Merriam-Webster defines "to revere" as "to show devoted deferential honor to: regard as worthy of great honor." To be reverent does not mean to be religious. It means to show honor and respect.
The Boy Scouts is 103 years old and has a storied history as an American institution. But it is an American institution that has a special relationship with Congress, chartered as a "Title 36″ corporation. It has exclusive use of the term "boy scout" and a number of other exclusivities. The BSA, like any storied institution, risks idolization and hegemony. And yesterday the hegemony was challenged from within its own leadership. And some of those who adhere and rely on those structures provided by the hegemony have vowed to abandon the institution.
It's telling how devoted these people are to the institution. They aren't. Gay scouts have participated within the institution for over a century. Now, that they are explicitly recognized as participants, somehow this makes the institution tainted. Opponents to the explicit inclusion say that scouting shouldn't be about sexuality and that lifting the ban somehow threatens heterosexual scouts. But if this were the case, then there would never have been a split between the Boy Scouts and Girl Scouts. There would just have been Scouts, as there are in a number of countries. Gender and sexuality, according to traditionalist arguments, are joined at the hip, if not share the same hip.
A number of religious organizations have already threatened to abandon the BSA, such as the Pentecostal denomination, the Assemblies of God, and the Southern Baptists have expressed dismay at the ban's end. The Mormons genuinely surprised me and have vowed to continue their relationship with the BSA. But it is important to note that while the Scout Oath promises "to do my duty to God and my country," that "God" is not identified. And this exemplified in the wide variety of religious emblems available for scouts to earn. While there are a variety of Christian denominations (including the gay-affirming Episcopalians and Lutherans), there are also emblems for Buddhism, Islam, Baha'i, Jewish, and many other religions. Some of these religions are gay-affirming, as well.
The point is that the BSA is not a Christian (conservative or otherwise) institution, though some Americans would like to think it and want it to be. And how many conservative Christian families with scouts would treat suspiciously scouts who happen to be Islamic? Are they fearful of troops made up of primarily Islamic boys harboring terrorists, of teaching Shari'a? Would they say Islam is incompatible with the tenets of Scouting? The strength of the Scout Oath is that God is undefined. God is who the scout believes God is, even if God is not. That's where the reverence, the deferential honor kicks in. At least, that's one place where deferential honor kicks in.
It's only one example, but it points to the problem of a notion of pure Scouting. To demonize gay scouts and scouters goes beyond inequality. Scouts has never been about being equal. Scouts is about serving one another, to raise the other person higher than themselves, to put the other person in a better position so they can thrive. There's another place where deferential honor kicks in. Scouts is about serving all boys and equipping them to be leaders – leaders who serve.
And raising others above oneself is always a threat to an institution. To serve another disrupts power, which what this is ultimately about. Call it what you will, but it is about keeping a certain kind of power, institutional power, in place.
And those who are unhappy with the BSA's decision, as convoluted as it is, and choose to leave the organization are making a choice with their feet and their hearts to not serve their fellow scout, the scout who was gay before the ban was lifted. There is power to serve. Scouting is about the power to serve others to empower them and ourselves. There are religious groups and members who will not stand to serve their fellow scouts.
But who else will they not serve, who else will they not revere? The poor? The political other? Women? Non-Christians? Other races? The list goes on and on until somehow these people create such an exclusive organization that is so homogeneous to achieve a kind of institutional purity that it risks parody of itself and eventual extinction.
Scouting isn't about that. A scout isn't about that. A scout is…
By now, you have probably heard the news that over ninety twenty-four people are dead in a devastating tornado that struck Moore, Oklahoma. At least twenty nine children have died. Two elementary schools were in the path of the mile-wide storm. The behemoth just churned through everything, traveling twenty miles in forty minutes. The devastation is immense. It is shocking. A people and land are in shock.
Does it seem that this is happening all too often? Or more regularly than it used to? It doesn't matter at this moment. Statistics and measures do nothing now. If anything, everything is a race against time to find and save and give comfort to the survivors. In a moment, everything was destroyed. Now, the responders grab all the time they can. In time, everything happens. And shock is a way to temper time. Time slows, for better or for worse, in shock.
We must love one another in this terrible time. This is when love is shown and must be shown. Comfort and aid and many tears of pain and lamentation. As time increases after this Event, so does lamentation. And with lamentation comes sorrow and wailing and loss. And natural disaster seems so unnatural, so disordered. It causes so much disorder. Natural disaster leaves so much disorder in its wake of immense energy release, when order reaches its tipping point. Order has spun itself out. Everything is awry. Now, we assemble a kind of order in response.
Now, is the time we must give. And we must be careful how we give. There is shock. And shock makes everything delicate, makes everything tenuous. We must give tears and blood and money and basic material things for those who have lost everything. But there are things we cannot replace or give. Lost loved-ones taken in a moment are rooted in time and hearts and minds and prayers. There are people and animals to help. Help. Help.
Lamentation. Tears. There is no explanation. Rationalization gives no comfort. Do not say to those who have lost children, "Everything happens for a reason" or "God has a plan." This is twisted, unkind logic. What logic is there in this terrible tragedy? What plan is this that kills children? What kind of a God is this and is this the god that you have given your heart, love, and allegiance to? Think twice about the cold comfort of words and logic. There is no grammar for what has happened. This is unspeakable. And there can be only lamentation, tears.
And the pietistic moralizers will soon come, proclaiming from a safe distance that such tragedy is divine wrath against a wayward people who have abandoned their God. This is Oklahoma, one of the most conservative and church-going states in the Union. And your god would pick this town, out of all towns, and people and children? Does your god eat His own, this awful, abusive Father? Is your god Moloch, the child-eater? Your moralisms undo you and your kind. In your indictment, you indict yourselves and your hearts. You leave them alone, these people. Leave us alone. Your stone hearts and acid tongues have no place here. You have already received your reward, the empty reward you give yourselves.
The cries of "Why, Lord?" and "Oh, God!" must be answered in and by us and our actions. In the appearance of God's absence, we must be present. Therein God has the opportunity to seem near, whether God exists or not. Can there be divine comfort? I hope so. Some will experience it. Others will not. Lamentation may ask for answers, but answers will not suffice. Love must act. There is no test of faith here, no "God never gives you more than you can handle." Who wants to handle a dead child? Who can?
This is trauma, when the world upends itself and folds mercilessly onto unexpecting lives. Let us be mercy and grace. If God acts, then God acts in and through us. Words fail. There is the limit of language and theory and theology and theodicy. Love one another. Help. Help. The present is bleak. Help.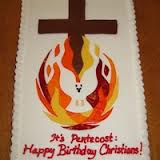 Pentecost is the queerest day of the Christian year. It is strange. It is unexpected. It is unwieldy. It is overwhelming. And we have sought to encapsulate and confine and control it within time, within a calendar to bring it back when we want it to occur. When we can expect it. When we can anticipate it. But that's not how Pentecost operates. And that's why we mark Pentecost, to make sure it operates in some way that we can fathom.
Pentecost is about the Holy Spirit, the wind, the breath of God. "The wind blows where it chooses, and you hear the sound of it, but you do not know where it comes from or where it goes. So it is with everyone who is born of the Spirit." 
The Holy Spirit makes people uncomfortable. People look at Pentecostals and charismatics and see strangeness, madness, and more. And they have laid claim to the Spirit and have institutionalized, defined, delineated, and laid claim to the vocabulary, grammar, and rhetoric of the Paraclete. And we have let them. Pentecostals are not uncomfortable with the Holy Spirit, they revel in it. But they should be uncomfortable. They should be as uncomfortable about the Paraclete as anyone. The Holy Spirit, who births the Church should always make the Church uncomfortable.
David Halperin writes "queer is by definition whatever is at odds with the normal, the legitimate, the dominant. There is nothing in particular to which it necessarily refers. It is an identity without an essence." What is the wind? Nothing. It has no Being (I'm attempting to steal from Jean-Luc Marion, here). It is action and praxis.
The Holy Spirit is queer. And s/he would embody queerness, except s/he has no body, per se. S/He is spirit. S/he is enthusiasm, God-within-ness. S/He enables bodies by entering bodies, Church bodies and human bodies, alike. S/He queers bodies.
In Pentecost, the Holy Spirit queers the four elements of Creation: There is baptism (water) by fire in spirit (air) poured out upon flesh (earth). The Body of Christ is made queer in its creation. The Church was born queer, as, "in the beginning", all people, "male and female", were born queer, breathed-in, enthusiastically, "god-in-ly". Free will is a queer thing, isn't it?
Performance and Acts. Praxis. The manifestation of theory in motion. Phenomenologically, the Holy Spirit is queer theory embodied and enacted. The Acts, the Practices of the Apostles are queer acts. These are queer apostles and they are made queer at Pentecost. And as swiftly as the Church is birthed, it sought to institutionalize itself, to reify itself. To find structure for itself, to normalize and stabilize its world.
But the Paraclete resists the heteronormative hegemony that the Church has sought to claim since its beginning. The Holy Spirit upends this heteronormativity, but s/he upends all homonormativity, as well. Remember, the Holy Spirit upends every and all normativity. And it upends the power of men, giving power to such women as Lydia and Dorcas. Because the power does not belong to men. It belongs to the Paraclete, the Helper. Power belongs to the doer, the doer in Christ. And that there is neither male nor female, neither Jew nor Greek in Christ, therein lies the universal, the universal that upends own universality. So, there is less trans- and inter- than human, all too human, human that shapes and molds and is shaped and molded like wet clay. Gender and sex and ethnicity and nation and culture are all queered and queering. This is the power of the Holy Spirit. S/He makes the holy profane and profane holy.
And today we remember that the Church is made up of all of us. Pentecost is when the Church remembers its birth. So there should be cake. I was told there'd be cake. We read in the Book of Acts that there are candles, that the apostles have flames appearing over their heads and the wind blows and the candles are not blown out. And the Church is the Bride of Christ, so I guess there should be wedding cake? I like cake. Where's the cake? Where's the Gift, the charismata? (More on wedding presents later)
But isn't the Bride of Christ a woman? Tell that to the men in pulpits who preach on Sunday mornings  against same-sex marriage. You, sirs, are married to Christ. Where is your bridal gown, sirs? Is it kept in a closet? Did you speak in strange tongues the ecstasies of Theresa of Avila or Julian of Norwich on your wedding night? Is not the power you claim from Scripture, and God, and Spirit, and gender actually your hubris? The Dove shall throw down every Hegemon and crush it under its talons.
The Pentecostals and Charismatics and Evangelicals who seek to lay ownership and superior power by the Holy Spirit risk being the new Sadducees. They have institutionalized the Paraclete the most. They have jailed the Dove in a cage, thinking they pull it out when they want. But how wrong they are. They are lucky the Paraclete is not Euripides' Dionysus in "The Bacchae", when the offended and marginalized god turns the women of Thebes mad to shred and devour their tarted-up and leering King Pentheus. Hubris will get you in trouble. The Paraclete fights fire with fire.
The Paraclete, the Helper, unnerves and upsets all structures and expectations. And it helps and comforts and gives gifts. But receiving gifts makes one uncomfortable. The Paraclete queers at the institutional level. The Reformation and Vatican II made the Church uncomfortable and gave it (and gives it) comfort. And the Paraclete queers and gives comfort to the most downtrodden. And it all starts on Pentecost.
And in the queerness of creation, all things are upended. Language is confused. Action is confused. What the fuck is going on?
UR DRUNK, APOSTLES! GO HOME!
But they aren't drunk. They're queer. They're unwieldy. They're unexpected. Behold, something new is being made, is being gifted, is being helped, is being done. But there is no Being. The Paraclete queers all Being in the wind, in the flame, in the flesh, and in the water. The elements are queered and become something new in creation. A new creation.
And every time we seek normativity, we sin against the Holy Spirit. When we seek to calcify the beingless praxis of the Holy Spirit, we blaspheme. We offend the Holy Spirit when we try to chain and cage the Paraclete. A helper in a cage is a slave. And we have enslaved our fellow human every moment we attempt to normalize our power over each one of us.
How do we disrupt, queer all normativity? By giving to one another, by being a Gift to one another as Christ is the Gift to us, as the Holy Spirit is a Gift for us. Giving disrupts the power dynamic and puts us in debt to one another. The Gifts of the Holy Spirit, when we give them to each other, disrupt all power relations and make us indebted to one another in the way we ought to be, indebted in the forgiving act of love. This is the wedding Gift that the Bride of Christ receives. This the Cake of the Charismata and Charismata Cake is of the tastiest of cakes.
So today is a queer birthday and a queer wedding! Rejoice! Eat your cake! Give each other gifts! Love one another as we have been loved and are loved. Release a flock of doves! Get drunk! Wear a wedding dress! Wear a tuxedo!
QUEER ALL THE THINGS!
Live in your performances! Live in your Acts! Be Nietzschean! Be Kierkegaardian! Be Paracletic! Be a Gift! Are you not one already? Today is our birthday, Church! Are we a boy? A girl? Something else? Something new! Yes, something new! We are a gift. A gift given in lovingkindess by our Creator who queers and is queer!
This is our day to remember that this is the queerest day, as every day should be a day for queering. Upend the Church in love! Make noise! Be confusing! Upend all societal expectations! Offend them! Queer all canons! Shall not the Church offend the World, the powers that be? Shall not the Church offend the Church? FUCK YEAH!
And will you, Church, dare reify, categorize, demarcate, and define the Holy Spirit, the Paraclete, for us, the Church? Even you, O Pentecostals? God help you… God help you. It is not us who take back the Paraclete. It is the Paraclete who takes us and queers into the unexpected.
Ian Curtis, lead singer of Joy Division, passed away by his own hand thirty-three years ago, today. There was a time when that anniversary was not as important in the popular culture as it is now. Now, in the hands of two aging generations, Joy Division flourishes. Joy Division street art abounds around the world. The band's aesthetic is as iconic as it is subversive. New Order continues to tour and produce new material, ending its shows in homage. The music, that music! It continues to take hold. It grabs your wrist and won't let go.
Yes, Joy Division represented and represents disillusionment, but it also represents disenchantment. The irony is that their music has the power to enchant. For example, "Atmosphere" has a magical quality to it. It trembles and shimmers. It shivers and quakes.
To be at a New Order concert and hear almost every audience member sing along the lyrics when New Order plays "Atmosphere" is to be a part of something memorial. The song is a dirge and a salve. If there ever was a Joy Division hymn, "Atmosphere" is it. The song is a plea, an admonition, an indictment, an observation, and a return to the first plea. "Don't walk away."
Joy Division asks us not to leave. And we don't. We sing the dirge and we ask that our beloveds not leave us. But they may.
Bleak theology takes up that plea. Don't walk away. All institutions have crashed and burned. Will the institution of love crash and burn, too. Love will, indeed, tear us apart, again. Church fails. We are told that the Church does not fail, that it cannot fail. But the paradox of the Church is that it is fully human, and thus not only does it fail, but that it has forever failed. This is why it is the Church. Preaching the Church Triumphant is propaganda. The Church Triumphant is Empire. Bleak theology resists the idol of the Church. It begs the Church to not walk away in silence.
Pentecost is tomorrow. It is the remembrance of the beginning of the Church and the church. Cathedrals will burn almost as hot as the flames over the apostles' heads. The Church will burn. What of it?
On Wednesday, our Theology Circle finished Bonhoeffer's Life Together. It seemed that everyone really enjoyed reading it and got a lot of insight out of it. As one reads through it, one discerns Bonhoeffer's real attempt to lead the reader to the goal of communion, of Christian community. There is a real trajectory there. It's all very sobering and edifying. And that's probably why I haven't blogged about it here.
Now, we're in hiatus for a few weeks until we figure out what to read next. We're probably going to do some liberation theology and since that's grounded in suffering, I'll probably write on that. Also, I'll probably live tweet it. Does anyone live tweet a theology circle? Well, I may give it a shot.
&
I finished off an essay on John Locke yesterday. Just a primer. It's been years since I've read him and he's quite influential, especially on David Hume, which I look forward to rereading. And I will write about Hume. Now, I'm going to read a synopsis of George Berkeley.
&
My friend, Phil Fox Rose, told me that Jean-Luc Marion will be speaking tomorrow night and I squee'ed a bit there on the street. He's one of my idols (bad Marion pun, sorry). Hopefully I can make it!
&
New Star Trek movie! EEP!
So, former South Carolina governor, Mark Sanford, won his old congressional seat last night, defeating Elizabeth Colbert Busch with 55% of the vote. To be honest, I didn't think he'd win. But for all the moral posturing of social conservatives, I think that the New York Times summed it up:
"We are not trying to elect the 'how is your conscience' candidate," said Charm Altman, president of the South Carolina Federation of Republican Women. "We are trying to elect someone who can govern."
Indeed, Charm. Indeed. Is it so wrong for anyone, especially a conservative woman that believes in the sanctity of heterosexual marriage, to endorse an adulterous husband and father? A man who divorced his wife and left his sons to pursue his South American "soul mate"?
Sanford has pled the "King David defense", saying that King David "fell mightily, fell in very, very significant ways, but then picked up the pieces and built from there." Well, true. He did. But Nathan, the prophet, did have to call him on his shit in the first place. Everything was going just fine until someone saw something and said something. And did this whole "I saw you bathing and I think you're hot, so to have you, I got your husband killed" thing really get in the way of David's governing? According to 2 Samuel, not at all. This was solely a personal matter. David says, "Oops. I'm sorry. I'm really, really sorry." And yay! Repentent King David, politically unscathed. AND after his love child dies, he consoles Bathsheba by sexing her up and she becomes pregnant with Solomon. So it all ends up for the best, really. Because Solomon was a wise and great man who upheld traditional, biblical marriage, as well. Representative Mark Sanford, moral paragon.
It's been a while, but we've seen this before. President Bill Clinton had his infamous affair with intern Monica Lewinsky. And the GOP-led House of Representatives, led by Speaker (and perennial presidential candidate) Newt Gingrich, who was cheating on his second wife at the time, impeached him on charges of perjury and obstruction of justice. Clinton said his conduct was "not appropriate", but as far as I know, he never publicly repented. However, he did stay married to his wife, unlike the socially conservative Mark Sanford. And we've seen Clinton's star continue to rise since he left office. The star of Sanford, it seems, is back in office.
Was it ultimately about sexual impropriety in both these cases? I don't think so. It was about abuse of the office. Sanford won re-election because he ran on a platform of responsible government and responsible spending and he's familiar. He's family. And family is forgivable, right?
The interesting thing here is Sanford's "biblical" strategy to gain favor. America, especially evangelicals, love a comeback story with a repentance hook. As the Times wrote,
In his victory speech, Mr. Sanford promised to be a "messenger to Washington, D.C." Then, after introducing one of his sons and his fiancée, Mariá Belén Chapur, who had just flown in from Argentina, he spoke of the redemption he had found on the campaign trail.

"I am an imperfect man saved by God's grace," he said.
Everyman Representative Mark Sanford, politically unscathed. Conservative Christians can like Sanford and despise Clinton because of his public, pietistic repentance. The panacea of grace carries a lot of weight. And it can help win elections, if the right voting ears hear it. And if your district really, really despises President Obama.
It will be interesting to see Representative Sanford in action until the 2014 election cycle, when he'll have to defend his seat and his congressional record. I'm curious what kinds of legislation he will bring and what kinds of speeches he will make from the floor. Will he be a strident force for "biblical" marriage and conservative, traditionalist morality? By citing King David, he certainly has opened up new old interpretations.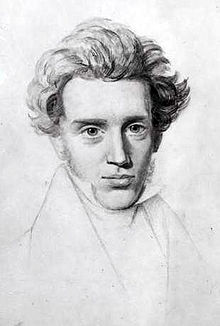 Today is the two-hundredth birthday of Søren Kierkegaard. It's hard to grasp that. This man, this singular man and thinker has been more influential upon my thinking and sense of self and understanding of the world than any other person. In fact, it's difficult to say much about him and his influence, it is so entirely pervasive. I have not read nearly enough of his formidable corpus of work and what I have read, I haven't read it carefully and deeply enough that I don't feel I am competent to explain very much. I'm not a Kierkegaard scholar and I know he would hate for any of us to call ourselves "Kierkegaardian." But here we are, in 2013, with 200 years of a very influential man's ideas and words embedded deep within us, whether we know it or not. The rise of Existentialism in the twentieth century exemplified the anxiety, dread, and uncertainty of the age. Albert Camus and Karl Barth both were deeply indebted to him. War brought uncertainty. Kierkegaard offered a kind of salve. And after the war, more uncertainty still. And Kierkegaard grew in influence.
I discovered Kierkegaard through Camus. A high school friend tangentially introduced me to Camus, though it was probably because of his love of The Cure's "Killing an Arab" and a particular kind of Mod posturing more than any else. We never spoke about The Stranger, really. My entrance into existentialism was more roundabout than most. I read about it more than any actual philosophical texts. During my sophomore and junior years, I was devouring Vonnegut and various classic dystopian novels in my north central Texas high school library. Formative, yes. But in fiction. I was starting to wrestle matters of Christianity and there was the ever-present ennui and frustration of adolescence. I read about Camus and discovered Kierkegaard. And that was it, really. I found not an answer, but a fellow traveler – a very articulate, transgressive one.
But I walked around Kierkegaard (I think he would chuckle about that, knowing his penchant for perambulation and indirect communication) for years, reading about him more than his actual work. I didn't feel I was ready. I read bits and pieces until I finally read Fear and Trembling in its entirety during my junior year of university. And that was when I found my actual grammar, vocabulary, and rhetoric. That was when things got infinitely better, and infinitely worse.
The genie was out of the bottle. There was no turning back. Kierkegaard had sat down in the chair across from me and, with a sly look in his eye and a wry grin on his lips, had laid out a wide array of utensils and instruments. Despair, anxiety, hope, love, truth, and faith. This was my new meal. The task was now how to cut, analyze, and digest all of this.
Kierkegaard got me into theology as an academic discipline and I have my career path because of him. But probably more than anything else, he provided the reassurance that what I was (and still am) going through is, indeed, a good thing. Melancholia is not sin. And the self-deceivers are those true-believers of ideologies, religious and otherwise. They are the sinners. They are those who live in bad faith, Sartre's or otherwise. They commit the sin of hubris. And Kierkegaard attacks them, whether it be the official Lutheran church of the Danish State, or the Copenhagen press, or the Hegelians. He attacks them. Mercilessly.
And it is God who he loves and cannot fathom. It is a paradox, an absolute paradox. He desires to be a Knight of Faith and can only wonder at Abraham. He knows that Purity of Heart is to Will One Thing. Kierkegaard, in all his angst and frustration and working out of his salvation in fear and trembling makes the path easier, because he points, poetically so, a rhetorical direction of working through one's own path toward Mt. Moriah. He points out that there is a secret that he cannot tell and and cannot explain and he points out that each individual must go their own way. He helps us by writing that ultimately, he cannot help us. We must go on, ourselves.
So, today is a special day. And I am pleased to celebrate it with a toast of Danish aquavit and maybe some hard bread and herring.
And maybe a little prayer in thanksgiving for the Melancholy Dane.